Contact details
Makhila Ainciart Bergara
75 plazako bidea
64480 Larressore
France

Mon – Fri:
9h-12h / 14h-18h
Saturday:
9h-12h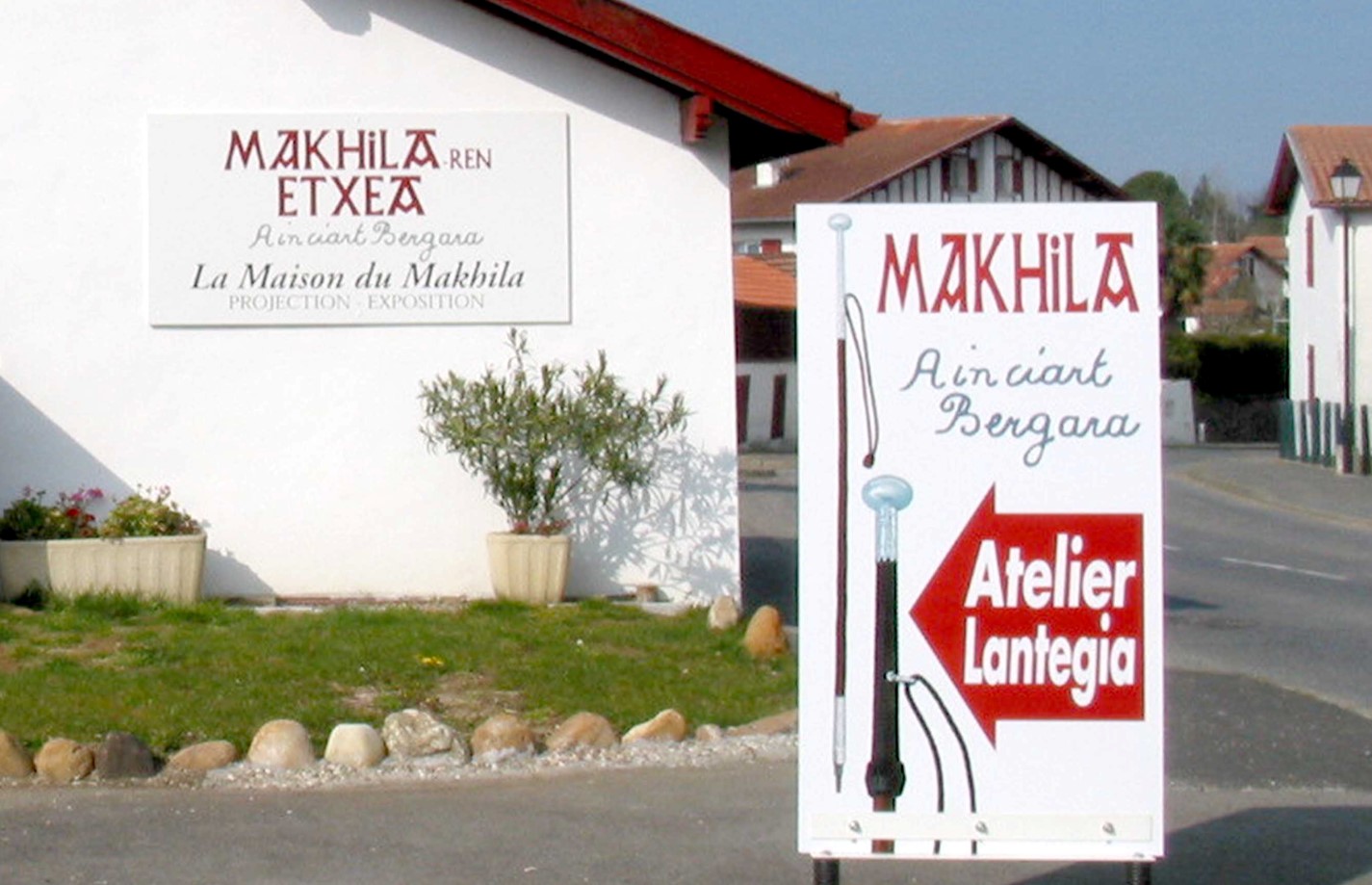 YOU ARE WELCOME TO VISIT OUR WORKSHOP
Workshop tour
Everyone is free to visit our workshop free of charge, all year round.
Our workshop is located in the village of Larressore, 15 minutes from Bayonne and Biarritz, and 3 minutes from Espelette. It overlooks the pelota court, on the main road through the village.
Discover the workshop where Makhilas are made
In the main room, covering around 10m2, discover the different models of makhila which we make, as well as very ancient makhilas which belong to our family and take a look at our photo gallery of artists, politicians and sportsmen and women who have received one of our makhilas: General de Gaulle, Pope Jean-Paul II, Nelson Mandela, Churchill, Platini, Cantona, Lizarazu and many, many others, including every French President under the 5th Republic.
France's Best Worker Award obtained in 1936 by Jean Bergara also hangs on the wall, as well as EPV certification awarded in 2011.
See our craftmen and women at work
Three work benches dating back several centuries are by the workshop's windows. Craftsmen used these to work the wood, leather and metal. In the left hand room is the ornamental engraving and leather workshop, in the adjoining former grocery store.
The makhila is entirely made here. Come and see the craftsmen and women at work, see how skilled they are at stamping, talk with them about the makhila and count the medlar stems drying in the room.
NB. If you visit us on a Saturday, there is only one person in the workshop, so the workshop is much quieter.
Enjoy our exhibition area
Before coming to see us, we strongly recommend visiting our exhibition area, opposite the workshop. You will find information about the makhila, the history of the Ainciart Bergaras and a 10-minute film about our know-how which will enable you to better understand exactly what we do before you visit the workshop.
GROUP VISIT
If you are a school, travel agency, bus company or a tourism player and want to visit our workshop with a group of more than 15 people, please contact us to book a time slot and find out our rates.